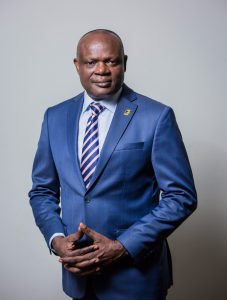 Mr. Gbenga Odeyemi's banking career began twenty-four years ago when in 1992, he joined the Merchant Banking Corporation Limited (MBC Bank Limited) as a Graduate Trainee. He worked with the Bank for about 13 years, and acquired rich and extensive experience in Treasury, Corporate and Investment Banking.
In 2005, Gbenga became a Staff of First Bank of Nigeria Limited upon the Bank's acquisition of MBC Bank Limited. He contributed significantly to the growth of the retail and corporate banking segments of FirstBank in Abuja as well as in other states in the northern part of Nigeria. This is because Gbenga Odeyemi is an easy mixer who had a knack for nurturing rewarding relationships with different stakeholders.
He later became the Head of the Corporate Banking Group and this gave him oversight responsibility to ensure the growth of FirstBank in five major states in the western part of Nigeria. Gbenga's cultivation of worthwhile relationships, coupled with an effective leadership style ensured that the Bank's customers received service that paid off and this accounted for the consistent progress the Group recorded on key parameters.
In 2014, Gbenga was appointed as The Chief Representative Officer of FirstBank of Nigeria's Office in South Africa. He utilized his entrepreneurial clout, which yielded corporate transactions that eventually promoted business opportunities between South Africa and Nigeria. He earned the role of being a key member of the board of South Africa Nigeria Chamber of Commerce.
He served as FirstBank's Chief Representative Officer in South Africa until he was appointed as the Managing Director/CEO of FBNBank Ghana.
Gbenga graduated in Finance in 1989 from the Institute of Management and Technology, Enugu, Nigeria. He received further training and development at the University of Calabar, Nigeria. He is also an alumni of the Lagos Business School, Nigeria.
He is a family man with four children.