FBNBank Ghana Ltd., a subsidiary of First Bank of Nigeria, has extended a hand of support to the 37 Military Hospital in the fight against the spread of COVID-19.
The support, which includes presentation of Personal Protective Equipment (PPEs) and cash donation forms part of FBNBank Ghana's over GH¢500,000 contribution that was made to various institutions including the Awutu Senya East Municipal (ASEM) Health Directorate, Kasoa and through the Ghana Association of Bankers.
Making the presentation at the 37 Military Hospital, the Managing Director of FBNBank Ghana, Victor Yaw Asante reiterated the bank's commitment to promote the health and wellbeing of Ghanaians. He said the bank found it necessary to support every effort to stop the spread of COVID-19 in Ghana and the world.
Mr. Asante emphasized the need for all to continue to observe the necessary preventive protocols; which include wearing of face masks, regular washing of hands with soap, use of hand sanitizers and maintaining social distancing to help contain the spread of the virus.
The FBNBank Ghana MD lauded the relentless dedication demonstrated by health professionals in dealing with COVID-19 and urged Ghanaians to avoid stigmatizing people that had been affected by the disease to avoid people keeping infections to themselves.
Since the outbreak of the COVID-19 pandemic, the FirstBank Group has spent over US$2,000,000 in interventions to support the health sector, especially relating to testing, isolation, treatment and the provision of Intensive Care Unit (ICU) facilities in Nigeria and countries in which FirstBank of Nigeria Limited subsidiaries provide banking services.
Receiving the items, Brigadier General Dr. Nii Adjah Obodai, Commanding Officer of the 37 Military Hospital expressed appreciation to the FBNBank Ghana Managing Director and wished the bank well.
About FBNBank Ghana
FBNBank Ghana Limited is a member of First Bank of Nigeria Limited Group. FBNBank Ghana Limited (FBNBank), a subsidiary of First Bank of Nigeria Limited, has 21 branches and agencies in Ghana with over 400 staff and offers universal banking services to individuals and businesses. FBNBank Ghana Limited was formerly International Commercial Bank (ICB) and has been in the business of banking for 24 years in this country. FBNBank Ghana is part of the trade hub that has grown economies for 126 years across Africa, Europe and China.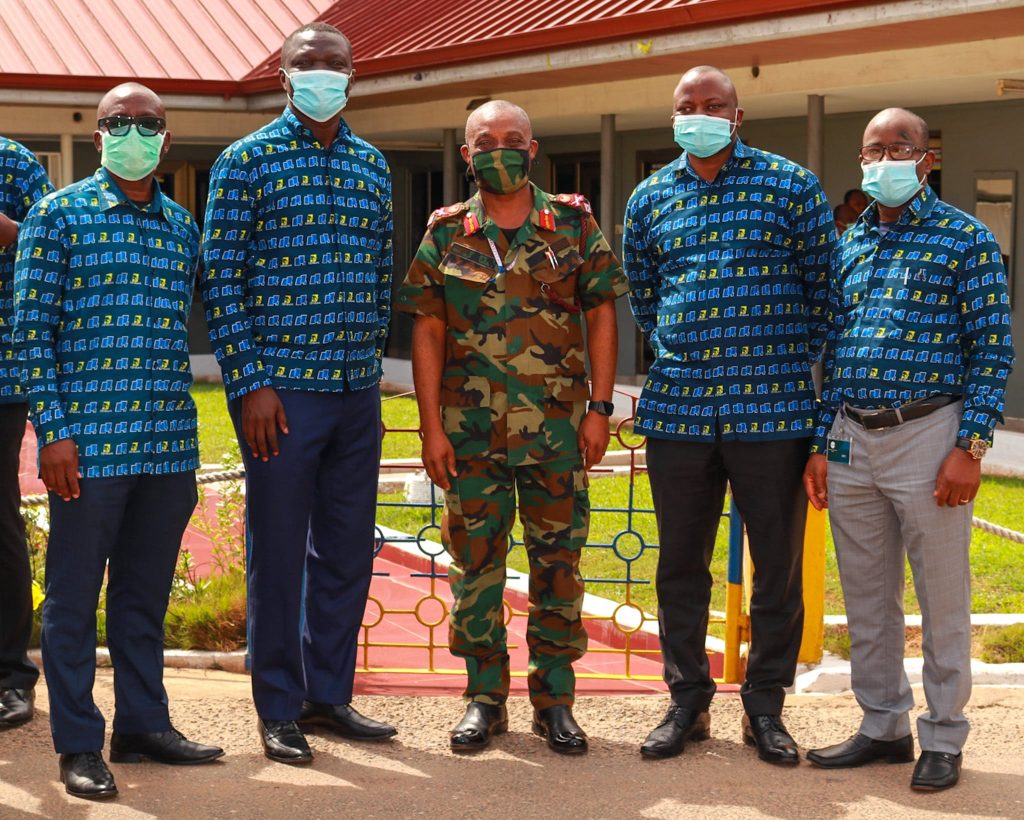 From left to right: William A. Neequaye, Head, Commercial Banking, Victor Yaw Asante, Managing Director, Brigadier General Nii Adjah Obodai, Commanding Officer, 37 Military Hospital, Semiu Lamidi, Chief Financial Officer & Mohammed Ozamah, Chief Risk Officer