Staff of FBNBank Ghana Limited including the Managing Director have presented an amount of GH¢10,865 in support of the Rotary Club of Accra Ring Road Central (RRC's) "Walk for a Child" fundraising initiative. The donation will be channeled into two projects being undertaken by the Rotary Club of Accra RRC for the renovation and construction of classrooms and library for the Golden Spring School in Tetegu as well as the purchase of essential equipment for the children's cancer unit at the Korle Bu Teaching Hospital.
Mr. Enoch Vanderpuye, FBNBank Ghana Country Team Lead for Marketing & Corporate Communications who presented the donation said staff of the bank contributed to make the lives of the beneficiaries better because giving is a responsibility we must all take seriously. He gave the assurance that as a brand that puts its stakeholders at the heart of its business and remains committed to promoting the health and wellbeing of Ghanaians, FBNBank and its staff will continue to support the communities in which it operates. He stated that the donation by staff from all the branches was in response to a call to support children that had needs. Mr. Vanderpuye was supported by other staff of the bank including the Managing Director, Mr. Victor Yaw Asante who himself is a Rotarian.
Receiving the donation, Rosemary Puni, President of the Rotary Club of Accra Ring Road Central expressed appreciation to the Management and staff of FBNBank Ghana. She revealed that "we are indeed touched by your kind gesture and generous donation. Your donation will go a long way to help improve lives of the community and for this the Rotary Club of Accra Ring Road Central is eternally grateful."
About FBNBank Ghana
FBNBank Ghana Limited is a member of First Bank of Nigeria Limited Group. FBNBank Ghana Limited (FBNBank), a subsidiary of First Bank of Nigeria Limited, has 21 footprints in Ghana with over 400 staff and offers universal banking services to individuals and businesses. FBNBank Ghana Limited was formerly International Commercial Bank (ICB) and has been in the business of banking for 24 years in this country. FBNBank Ghana is part of the trade hub that has grown economies for over 125 years across Africa, Europe and China.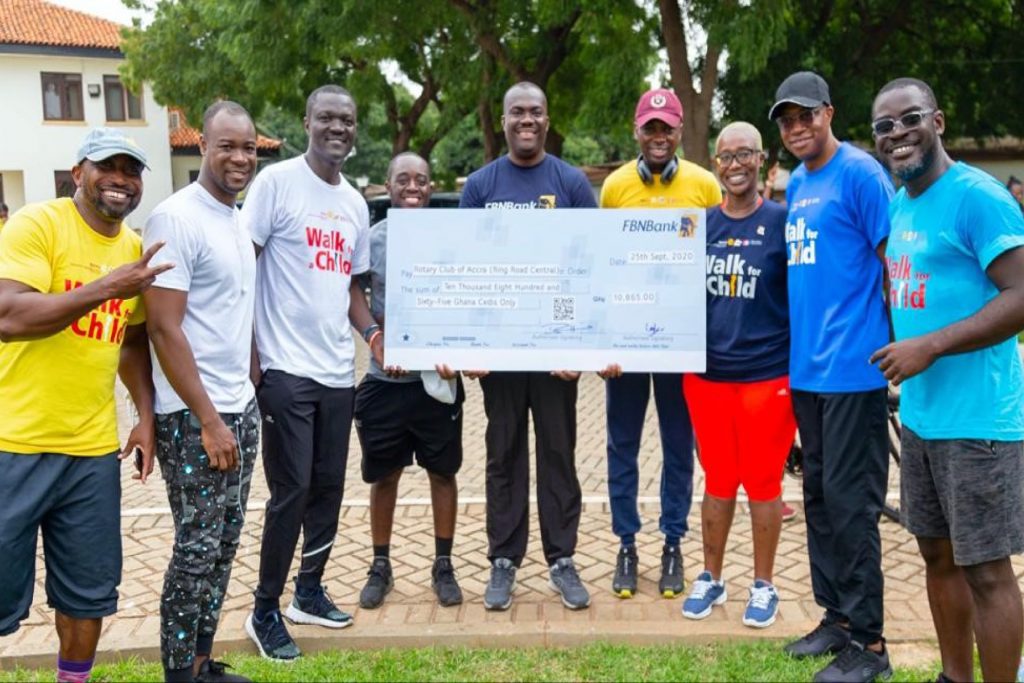 Mabrouk Adam, 2nd from left, Victor Yaw Asante, 3rd from left, Ken Aristo Aryee, 4th from left, Enoch Vanderpuye, 5th from left, Rosemary, 3rd from right and other Rotarians.